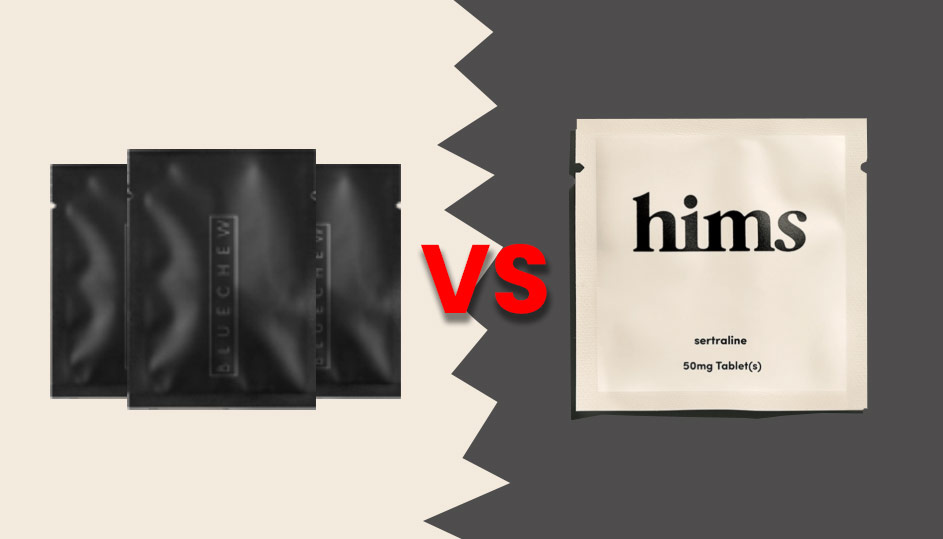 What Is Best? Bluechew Or Hims
What Is Best? Bluechew Or Hims
We have come to a place in society where we have more than one choice in erectile dysfunction medicines. Our great-grandfathers would have fought and died for such a luxury. Well, perhaps that's a bit of an exaggeration, but the fact remains that we have long suffered with little to no choice for this particular male issue. Fortunately, there have been some pretty big developments in the world of erectile disfunction in the past decade. Not only in miracle drugs to fix the issue, but also in price. Its almost impossible not to find a medicine that will solve any erectile dysfunction issue at a price you can work with. BlueChew and HIMS are two of the most talked about ED chewables on the market today, but which is better? Read on to find out.


BlueChew, HIMS, and a handful of other up and commers in the field of erectile dysfunction are doing something no other such company has. They aim at the younger crowd. It sounds crazy at first. Even counterproductive. We all know that erectile dysfunction is an older man's problem. Why market to the over 25 under 55 age group? Because we are wrong, that's why. Erectile dysfunction effects more men than you realize. In fact, almost every single man in the world has experienced erectile dysfunction at some point in his life and almost a third experience it before they hit 30. It isn't that big of a deal. Surprised?


With the onset of this new information, companies like BlueChew have rebranded their product and began to tout their benefits to a new demographic along with the old. But are they all the same? Here is how BlueChew and HIMS are different.


BlueChew VS HIMS The Basics
Both BlueChew and HIMS offer generic sildenafil to men in need. They both have online doctors who confer with patients via the Internet to administer the correct dosage for each situation. There is no need for an embarrassing or inconvenient doctors appt. Patients log in, schedule an appointment, and get their prescription. It comes directly to their door in a discreet package within days. No perceivable difference between company policies exists here.


The two companies begin to stray when it comes to services offered. BlueChew offers erectile dysfunction medication. Patients are offered both sildenafil and tadalafil in various milligram strengths. HIMS offers erectile dysfunction medicine, but also hair loss remedies, men's vitamins, and skin care products.


Price Comparison
BlueChew and HIMS both offer erectile disfunction medicines to patients after an online consultation with a doctor. The prices for their services are basically the same, with BlueChew being slightly lower. Both offer a monthly subscription in a variety of sizes which are billed to a credit card each month.
These companies are able to significantly discount erectile dysfunction drugs because they are generic versions of name brands such as Viagra and Cialis. The term generic simply means that the drug it is comprised of is nonspecific in brand. The drug sildenafil is the active ingredient in Viagra. Once Viagra was unable to own it solely, it became available to other companies as a generic medicine no longer solely associated with Viagra and its high-dollar prices.


Druge Development Is not Cheap
Drug and pharmaceutical companies spend big bucks to develop drugs like these and others that have the potential to change peoples lives. Millions upon millions goes into researching drugs and their side effects and developing that information into a medication that will successfully treat an illness. When that finally happens, those pharmaceutical companies want their money back. So, they go to work selling their new drug by pouring even more millions into advertising and media campaigns. After a specified amount of time, the drugs patent runs out and it becomes generic. That's when companies like BlueChew come in and sell the same drug at a huge discount. There are no researchers left to pay. There is noneed for big budget advertising because everyone already knows the effects and benefits of the drug.


The Bottom Line What Is Better? BlueChew Or Hims
The bottom line is there is little difference in these two companies. HIMS sells many more products and has a slightly higher price. If your are the type of guy who likes to keep things simple and to the point, BlueChew is probably your best bet.