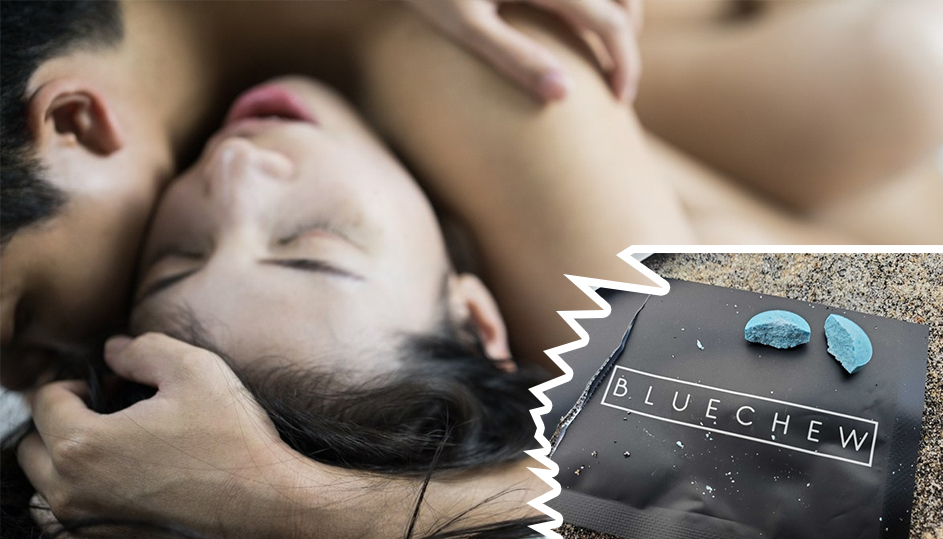 Is Having Sex on BlueChew Safe?
As if the stress of struggling with erectile dysfunction isn't enough, we also worry about the miracle products that deliver us from this malady. Sildenafil and Tadalafil, the ingredients in BlueChew prescriptions, have long been used in trusted brands such as Viagra and Cialis, but that doesn't keep us from wondering how safe they are. Fortunately, there has been much research on what happens to the body while having sex on BlueChew. Side effects are few and slight but can be detrimental if you have specific health concerns already. Make sure you are aware of all the possible side effects of BlueChew and have spoken to a doctor to determine if it is safe for you having sex on BlueChew.

Is Having Sex On BlueChew Safe for the Circulatory System?
The circulatory system is a big part of achieving an erection. Blood must freely flow into the penis to keep a strong, lasting erection for sex. BlueChew does this by impeding PDE-5, an isoform found in the corpus cavernosum of the penis that can slow or stop erections. BlueChew relaxes the muscles and blood vessels inside this area of the penis so blood can more freely flow in.

Since BlueChew is so rapidly dissolved into the bloodstream, its effects are fully realized within an hour. This can bring on some side effects that can be concerning. Flushing of the skin or redness is one of those side effects caused by the effects of BlueChew on the cardiovascular system but is considered harmless.

What About Blood Pressure?
BlueChew can cause blood pressure to drop approximately two hours after intake. This can be harmful if you already have issues with low blood pressure. Some low blood pressure medicines can act against the medicines in BlueChew and cause health issues. Always make sure your doctor knows all the medicines you are on when you ask for BlueChew.

Is Having Sex On BlueChew Safe For My Heart?
Any health professional will tell you that sexual activity can be good for your heart. Sex is an aerobic exercise for the heart. It keeps your heart strong and in good health. If you have unstable angina or have had a stroke or heart attack BlueChew could potentially be harmful. As with all medications, it is important to talk with your physician before taking it.

Is My Digestive and Excretory System Affected by BlueChew?
Heartburn and indigestion are two of the most common side effects of BlueChew. Medicines like this that inhibit PDE-5 enzymes can occasionally cause slight nausea and vomiting. While uncomfortable and annoying, this isn't a big problem and does not last long. More than 80% of BlueChew leaves the body in feces. The rest is flushed out with your urine flow.


Aches, Pains, and Muscles
Some people feel back pain, headaches and/or myalgia as a side effect of taking BlueChew. Sometimes respiratory issues, cough, or stuffy nose occurs. While annoying, these side effects do not last long and are not severe. Most side effects of this type disappear within a few hours.

Is it Safe for me to Take a Drug I was Prescribed Online?
Telemedicine is a viable substitute for in-person doctor visits. In some situations, it is even a better choice. Administering healthcare via the use of information technology and telecommunication bridges the gaps between expert care and patients who need it. People in rural areas, especially, can have trouble getting the medical care they need in their remote area.

The care provided in telemedicine is every bit as professional and safe as any other health institute. The doctors providing the care are licensed practitioners in the states in which the care is provided. The facilities employing the doctors are required to comply with rigorous state and federal standards. The BlueChew doctors are real doctors. Your visit with them, while conducted online, is still a real doctor's visit. You are required to tell the truth about your physical condition. Just as with a person to person visit, your doctor relies on you for accurate information to base your treatment on. During the initial prescription process, you are required to snap a clear face photo as well as upload your state I.D. to prove your identity. BlueChew doctors do everything in their power to ensure you have the best prescription strength for your problem. Your accurate information is essential.

You are responsible for reading and understanding the literature that comes with your erectile dysfunction medicine. BlueChew offers a medical team to provide answers to any question's patients have. As long as you do your part in promoting your own good health, BlueChew is absolutely safe to take. Having sex on BlueChew is safe. In fact, it is the point. The medicines contained in BlueChew chewable tablets are the same drugs in the name brand ED pills. They are FDA approved and safe for consumption.