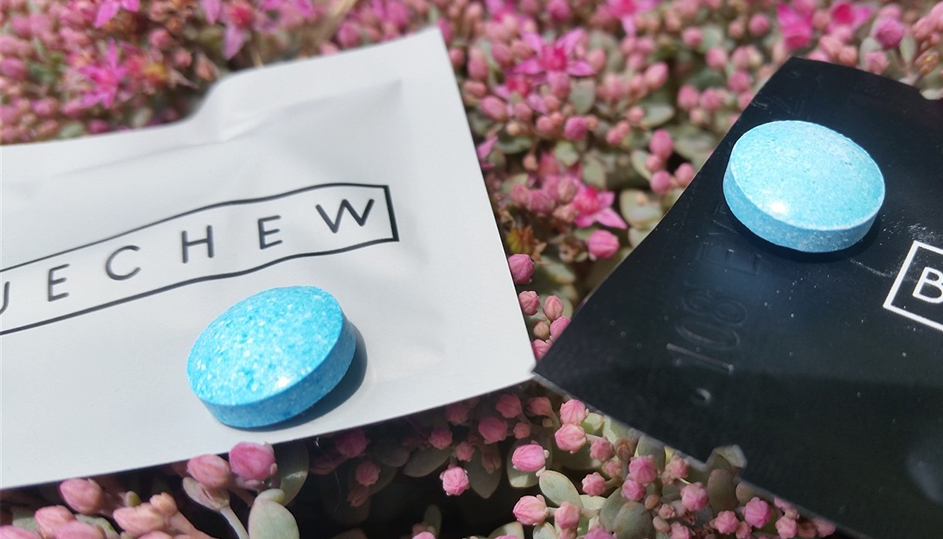 How Long Does BlueChew Last?
Deciding on an erectile dysfunction medicine such as BlueChew is not an easy task. Health concerns and other issues must be taken into consideration. A full medical examination by a licensed health practitioner is necessary to get a prescription. The doctor will ask many questions and delve into your personal history to determine both the cause of the problem and how to treat it.

The silver lining to this uncomfortable cloud is that at the end of the examination there will finally be an end to your erectile dysfunction problems. Finally getting treatment can feel like the dark cloud hovering over your sex life has blown away without a trace and you can hardly wait to try out your new medication.The first question that comes to mind for most new erectile dysfunction patients is, how long does BlueChew last? With BlueChew that question is easy to answer based on scientific evidence.

What Type of Medicine is BlueChew?
Erectile dysfunction drugs can be used in several different ways. They can be injected, rubbed onto the skin, or ingested orally or through a suppository. One of the most common ways is to swallow it via a pill or tablet. BlueChew erectile dysfunction meds are swallowed but they are different than pills. BlueChew tablets are chewable. They are designed to be broken down and dissolved in the mouth before swallowing. Traditional pill medications have a film coating which makes them slide down the throat easier. The coating also protects the lining of the stomach from the medication.

There are a couple of great benefits to chewing a tablet instead of swallowing a whole pill. Besides being easier for many to get down the hatch, it also sets the medicine to work faster. Pills have to enter the stomach and begin the digestion process. BlueChew are already broken down when swallowed so they get to work that much faster.

So How Long Does BlueChew Last?
BlueChew offers two different types of erectile dysfunction medicine, Sildenafil and Tadalafil. These are the very same drugs in popular ED treatments Viagra and Cialis. While both of these drugs are designed to treat erectile dysfunction, they have slightly different characteristics. The Sildenafil BlueChew option is the same drug as Viagra. It should be taken when sexual activity is anticipated as it takes approximately an hour to begin to take effect. This isn't the erectile dysfunction treatment you need for a spur of the moment sexual encounter. Sildenafil is used when you have planned out your night. It can last anywhere from four to six hours.

The Tadalafil BlueChew option is the same drug as in Cialis. It should be taken once per day. It remains in your system for up to 36 hours. It allows the user to obtain an erection on the spur of the moment. This type of erectile dysfunction medicine doesn't require forethought or planning to schedule sexual activity.
How Much Should I Take?

Your prescription strength will be determined after your consultation with the doctor. Your personal health issues will be discussed as well as your goals for the future. Important vital statistics such as your blood pressure are recorded. Once the doctor has a full picture of your situation a prescription-strength will be discussed.

Is There An Age To That Is To Young For ED Meds?
Most erectile drug treatments are prescribed in 25, 50, or 100 mg dosages. BlueChew offers Sildenafil in 30 mg and Tadalafil in 6 mg dosages. When you get your prescription, the doctor will tell you how best to take it to get the results you desire.

Can I Take More Than One or Increase My Dose at Times?
Increasing the dosage is certainly possible but must be addressed with the medical team before doing so. BlueChew's chewable formulation allows the medicine to enter your system faster so increasing your dosage should be approached with extreme caution. If you feel you have taken to much or if you have an erection that lasts too long, call 911 immediately.

Dont Over Do It With Multiple Meds
A prescription of only one of these medicines is needed. Mixing the two can cause deadly consequences. Doctors at BlueChew will not prescribe them both. It is possible to switch, however. If the medicine you are currently taking isn't working as you'd hoped, talk to the medical team about trying something new.
BlueChew is specially designed to enter the bloodstream faster than a regular pill. It gets to work faster and therefore lasts longer than most other options. The low price and fast action of BlueChew has made it a popular choice for ED sufferers all over the country.

One of the most important factors in the BlueChew experience is the twenty-four hour a day, seven days a week of professional support. There is always someone available to answer your questions and help make your BlueChew experience the best it can be.