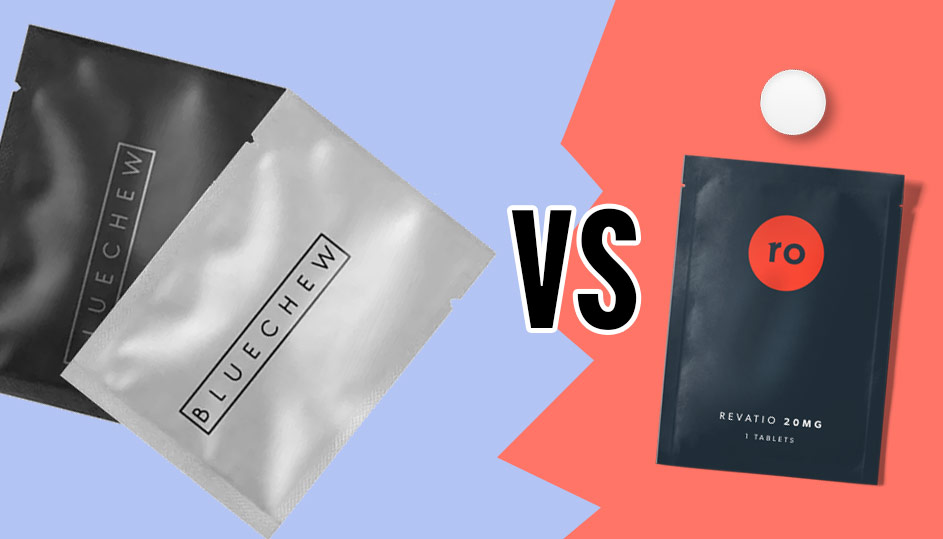 BlueChew VS Roman – Which Is Right for Me?
Erectile dysfunction is not the huge embarrassing problem that it used to be. There are an estimated 10 to 30 million reported cases each year in the United States. All men go through a stage somewhere in their life when they have trouble obtaining and keeping an erection. It becomes even more common as we age. More than half the population that is between 40- and 70-years old experience recurring trouble getting an erection. While there are some diseases and medications that can cause erectile dysfunction, most men will experience periodically anyway. Today we take a look at two such options for erectile dysfunction, BlueChew VS Roman.

The reason so many cases are diagnosed each year may be because the definition is so widely varied. Some doctors believe it is a total inability to get an erection at all. Others classify it as infrequent erections or erections that do not last longer than a few minutes. With such a large span of symptoms, it can catch virtually any man within its description. Estimating the true reach of this condition is therefore very difficult. It isn't easy to go to the doctor with these complaints. It is embarrassing. A lot of men will try a variety of home remedies and herbal medicines before gathering up the courage to talk to a professional. Some online erectile dysfunction treatments are better than others. It can be difficult to tell which is best for you. If you're pondering between BlueChew and Roman, this little guide may be what you need to help make the decision.

BlueChew & Roman Are Both Telehealthcare Companies
Both BlueChew and Roman are telehealthcare companies. They conduct physical exams and prescribe medicine all online. It may sound sketchy, but it perfectly legal and helping out men over 18-years-old all over the country. The goal is to make healthcare more accessible for everyone despite geographical restrictions. Cross-state medical practices, malpractice insurance, and online prescription restrictions can cause a roadblock for some telemedicine companies.

BlueChew and Roman benefit from the Interstate Medical License Compact which helps maneuver them through the countries medical licensing system. This system has been the biggest barrier to telemedicine and telehealthcare since its inception. The Telehealth Promotion Act of 2015, the TELE-MED Act of 2013 (Read About It), the VETS Act, and a host of other bills in recent years have attempted to eliminate the geographic limitations on telehealthcare and telemedicine to make it easier for doctors to provide care to patients all over the country. The compact went into effect in 2015, allowing companies like these to treat patients all over the country.

Medicine From Both BlueChew and Roman Are FDA Approved
The medicines that BlueChew and Roman prescribe are all FDA approved, safe, and healthy products. They are the same products that are used in name brand erectile dysfunction medicines like Cialis, Levitra, and Viagra. Almost everything is the same about these two companies, but here we see a slight variation. While BlueChew prescribes Sildenafil and Tadalafil, Roman also offers Vardenafil, which is also the active ingredient in Levitra, as well as a generic sildenafil. The medicines are basically the same, but the dosages may vary.

What Experts and Medical Professionals Say About BlueChew VS Roman
Both BlueChew and Roman have a full staff of doctors and medical professionals to fully examine and guide patients to the right services. Patients are assigned a doctor just as if they went into the office. That doctor makes sure the patient's health history and medical conditions are taken into consideration along with the erectile dysfunction. Medicines are prescribed accordingly. These are real doctors with qualified degrees and experience in real life.

The Medical Maladies Of BlueChew VS Roman
The biggest and most important difference between BlueChew and Roman is the health problems they treat. While BlueChew treats only erectile dysfunction, Roman has a larger list of illnesses and issues it addresses. These include:

• Premature ejaculation
• Enlarged prostate
• Hair loss
• Cold Sores
• Genital herpes
• Quit smoking

BlueChew is in business for one reason only; (GET STARTED WITH BLUECHEW) to help men achieve a reliable and effective erection. Having one single purpose ensure all the attention is focused on solving that problem. It is very reassuring to know an entire medical practice is dedicated to aiding the disruption of erectile dysfunction for whatever reason it may be present.

If you are in the market for erectile dysfunction medicine, there are many options to choose from. Telemedicine has become the choice of busy men everywhere. When it comes to BlueChew VS Roman, most of the options are the same but if you really want a company dedicated only to solving erectile dysfunction issues, the choice is clearly BlueChew.